VASCHY Slim Laptop Bag Water Resistant 15.6in Laptop Tablet Case Sleeve Messenger Shoulder Bag for Man Women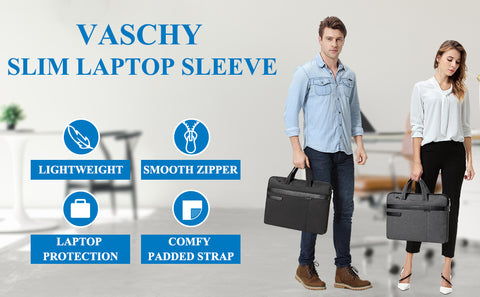 This exceptionally durable slim laptop bag is made from water resistant fabric reinforced to provide long lasting strength. The interior features soft plush lining main compartment to keep the laptop/tablet.The outter compartments are accessible and properly sized. Two front side pockets,one is just right for a large cell phone or other electronic device or a small tablet. The other pocket is larger and has small sleeves for pens, business cards & misc. items, power cords, etc.

There is enough interior padding to protect devices, but not so much to make this bag feel bulky. Shoulder strap adjustment is smooth and easy, the strap is properly sized with a padded sling covering for carrying with comfort.Excellent lightweight processional every day working bag,business laptop bag.